It seems to me that there are some things that were made primarily to confuse future archeologists. Whether the author(s) of the Voynich manuscript were going for that is up for debate. Archeologists of the linguistic persuasion still continue to puzzle over it, because here's the thing: it's in an unknown writing system, in an unknown language.
Like so.
There have been many theories as to the purpose and contents of the manuscript: an almanac, a grimoire, a hoax,
glossolalia
, aliens, a diary, Leonardo da Vinci, proto-Dungeons and Dragons....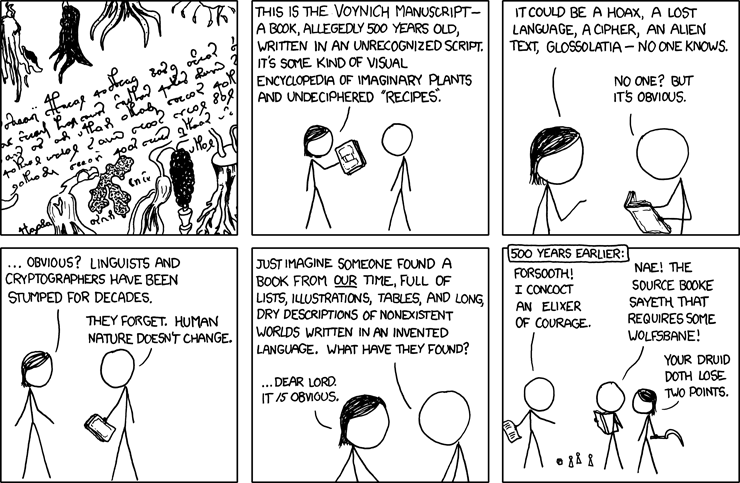 Pictured: the Dungeons and Dragons theory.
There have been many proposed solutions, but unfortunately none of them seem to work in practice. Example: the writing system is a simple cipher used to write an anagrammed version of Italian, and Leonardo da Vinci created it as a boy (the manuscript supposedly has childish handwriting). But when you try to make sense of passages based on that, you just get a bunch of gibberish consisting of random Italian words coupled with words that don't (and couldn't) exist in Italian.
So, it remains a mystery. All anybody really knows is that an antiquarian book dealer named Wilfrid Voynich got a hold of it in 1912. (Thus, the name.) The general consensus is that the book is ~500 years old, but it could be older or younger (the hoax theory thinks it's a lot younger).
Whatever explanation there is, I think it's beautiful -- if anyone ever makes Voynich manuscript fabric, then I'd love to buy some. (If there's a Lolita skirt/dress out there, then even better!)
So what do you think, readers? Is it an almanac? Aliens? D & D? Or was it written for the noble purpose of stumping future archeologists?